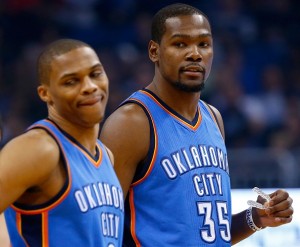 BY KEVIN KERR
All of us have that one ex-girlfriend or boyfriend that, at one time or another, meant a lot to us. Our world revolved around them. We might have even purchased clothing items that had their names on it, because we were head-over-heels, madly in love with this person.
But then…. one day…. they left.
After it was over, you did everything in your power to avoid them. But once in a while, they would crop up in conversation, or you'd see them four times a year at a public event, making for a very uncomfortable night.
It's that exact feeling that every Oklahoma City fan gets when they see Kevin Durant playing in a Golden State uniform.
Just over five months ago, Oklahoma City was poised to become a Finals-bound team again. The 1-2 punch of Durant's shooting ability and Russell Westbrook's knack for finding even the slimmest of holes to drive to the basket were undeniable. The best duo in the league.
Then came Independence Day, 2016…
Truth be told, I may have wept when I heard the news. But it was short lived, because shortly after the Dur-Exit, Westbrook made his intentions known. He was staying put, and signed a contract extension that would keep him here for a while.
After that, things settled down for a bit. But then the 2016-17 season started, and it became real.
We saw Durant with his new significant other – Golden State –  for the first time… and it was weird. Secretly, we all wanted him to fail. "How can he produce with so many sharp-shooters on that team." "He's gonna get crushed under the weight of the star-power." "No way he's as productive. This move was career suicide."
But it wasn't. And shortly into the season, we saw him against our Thunder for the first time on the opposite side of the bench.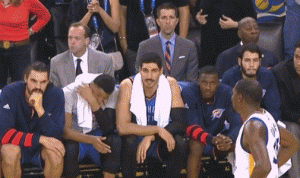 That night, Durant went off, dropping 39 points and 7 rebounds in 31 minutes of play, and the Golden State Warriors, on their home court, decimated the short-handed Thunder 122-96.
But the most important question of the night came from the mouth of Enes Kanter – who had been jawing at Durant all night from the bench….. "Where was that when you were in OKC," he mouthed from the bench.
It was already an open wound, and Durant just smothered it with salt and rubbed it in.
Since then, I have yet to watch a Golden State game, but tonight (Jan. 18), that wretched blue and gold bridge logo will appear on my screen again, worn by our own Benedict Arnold.
But here's the thing…. as much as I hate what Durant did to us… I still remember what he did FOR us.
Without KD, there wouldn't be this rabid fan base in Oklahoma and beyond.
With him at the helm, we won six Divisional titles, a Conference Title, appeared in FOUR Conference Finals series, and one NBA Finals series in 2012.
In the public eye, he helped aid the city of Moore when that massive tornado damaged hundreds of homes and businesses in 2013. He carried himself in a way that made the people of Oklahoma believe that he cared about them. Even to this day, he's still giving back to our communities, donating $57,000 in December to build a new school for homeless children in Oklahoma City.
It is an absolute love/hate relationship in the truest of forms. So KD, I'm here to say publicly, we love what you've done to build our beloved organization, but we'd hate to see you win it all now that you're gone.
#ThunderUp
– Kevin Kerr is the Program Director for the Sports Animal AM-1240 KVSO in Ardmore, Oklahoma
Catch the Oklahoma City Thunder all season long on The Sports Animal AM-1240 AM, KVSO.
Sponsored by Vision Mechanic.