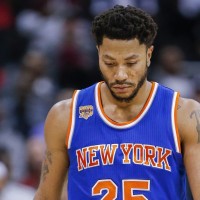 New York Knicks PG Derrick Rose went missing Monday night during their game against the Pelicans, and apparently nearly quit basketball during his brief time away from the court.
Rose reached out to team officials on Tuesday saying he had a family situation in Chicago and had to return to his hometown to handle it. As of Tuesday night, he was back with the team.
Head coach Jeff Hornacek told media outlets Wednesday morning, "everything will become clear later on."
Teammate Joakim Noah also said he talked with Rose and said he was OK. "Obviously Derrick is one of our better players. And when he is not here it is tough. But I am just happy that everything is OK with him."
Rose has been frustrated with the Knicks' recent struggles this season and was audibly displeased when Hornacek benched him against the Bucks last week.
Various other sports outlets reported, too, that Rose nearly walked away from basketball all together during his brief disappearance. Apparently, whatever made him suddenly take the trip back to Chicago shook him so much, he briefly talked about leaving the sport for an extended period of time to clear his mind.
This season, he's averaged 17.3 points, 4.5 assists and 3.9 rebounds. He received no fine or suspension for Mondays absence.